On Assignment

August 5th, 2011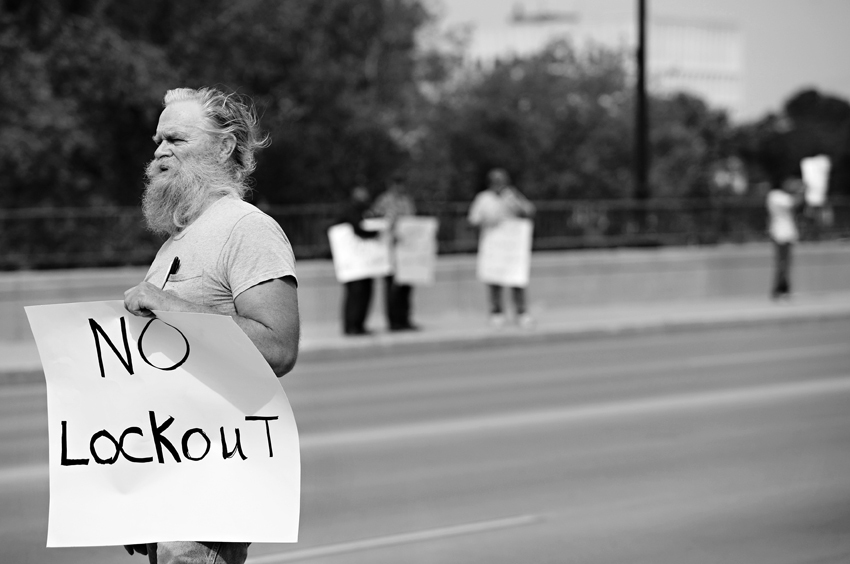 Roughly 1,300 union workers at American Crystal Sugar Co. continue to be locked out of company facilities in North Dakota, Minnesota and Iowa. During the past 10 days I photographed American Crystal workers in Moorhead, Minn., home to the company's headquarters, twice for Minnesota Public Radio News.
The first assignment was to document a demonstration on the Veterans Memorial Bridge, which connects Moorhead and Fargo, N.D. Union employees and supporters gathered for an hour or two for several consecutive days during on-going negotiations with American Crystal. The company and the union were working to come to terms on a new contract for workers.
A few days later, union workers overwhelmingly rejected what the company called its final contract offer. American Crystal, in turn, said those workers would be locked out of their jobs the morning of Monday, Aug. 1.
Enter my second assignment. Union workers planned to begin informational picketing outside the sugar beet processing plant in north Moorhead on Monday. I arrived at 6:30 a.m. It was raining and overcast. Dozens of workers were in place for the first couple of hours and as the first batch of replacement workers arrived in vans. Numbers thinned as each hour passed. Regardless, union members remain stationed at the plant's six gates 24 hours a day. To the best of my knowledge, no new contract negotiations are planned.
I thought it would be interesting to share a selection of photographs from Thursday's demonstration [featuring handmade signs under sunny skies] and images from the scene Monday outside the plant [featuring printed uniform signage and rain].
MPR News – and other regional media organizations – are continuing to cover this story. It will be interesting to see what comes next. – Ann