On Assignment

April 27th, 2011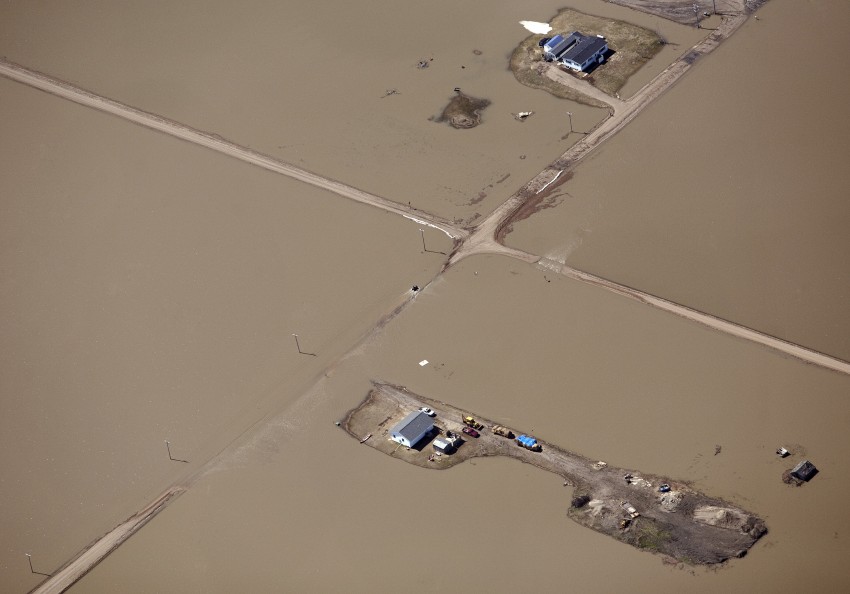 Spring flooding is a pretty common event here in the Red River Valley. The region has been on the national media's radar since the 1997 flood, which devastated downtown Grand Forks, N.D., and other areas.
I missed that flood. In fact, North Dakota wasn't even on my radar back then.
Three years ago the entire valley and Fargo, in particular, drew heaps of media coverage due to the severity of the flood fight.
I was here in 2009 and those memories remain vivid. Flood preparation ramped up just a few weeks after my full-time position with the local newspaper ended. I was a freelancer without an outlet. I contributed reporting to a wire service and photographed whatever I was able to access. Our street felt something like a war zone – I can't say for certain since I've never been in an actual war zone. Black hawk helicopters overhead. National Guard trucks in droves. Calls from the city declaring, "Code Red". Clay dikes and more clay dikes. You get the picture. The experience wasn't much fun professionally or personally.
Last year's flood event was pretty standard as floods go – at least here in Fargo-Moorhead. I photographed daily for Minnesota Public Radio News. My contribution to the organization's website and Minnesota Today project spanned seven consecutive days. I remember feeling proud that I was now regularly freelancing for a reputable news organization.
For the most recent flood event, I again contributed photographs to MPR News and Minnesota Today. I was able to apply lessons learned during past years [hit key areas early and often, flash my media credential at check points, convert the car into an office complete with a veritable snack bar, wear comfortable rain boots and warm socks]. My contribution spanned 10 consecutive days. I photographed a lot of wonderful people and remain grateful for those meetings.
One particular assignment marks a sort of milestone. On April 11, I climbed into a small airplane to photograph flooding from above. The Red River at Fargo crested two days earlier, but the river remained high. Meanwhile, overland flooding had forced the closure of Interstate 29 and left dozens of rural roads under water. The next day, 14 aerial photographs were published by MPR News. I posted that link on my facebook page and promised to share a bit of the back story here.
It's important to note that the aerial images would not have been possible without news editors willing to support the endeavor.
That said, I planted the seed for the shoot weeks before flood coverage began. I followed up on that concept a couple times and continued to make the case for it. I checked the weather, thinking clear skies would lead to more dynamic photographs. I called everyone I could think of to ask for help in locating a pilot and plane. I found a pilot and a plane. I called an editor – as I was literally on my way to meet said pilot and plane – to confirm the assignment.
A couple of things worth noting:
1] I don't like flying and I really don't like small planes.
2] I don't have extensive – or really any – experience photographing aerials.
3] I've never come back from an assignment without publishable images.
I figured the best thing to do was to have two cameras, fully charged batteries, fresh memory cards, shoot at a fast shutter speed because the plane isn't really in a fixed location, open the windows to avoid reflection and distortion, pull my hair back so it wouldn't get in my photographs and shoot a lot.
I spent an hour in the sky. I shot 700 frames.
I'm rarely -if ever – satisfied with my photographic efforts. Those who know me well – my husband, book club friends and a handful of colleagues – would agree with that statement.
When my time in the sky came to a close, I was filled with a huge sense of satisfaction. I knew I had done my job well. The aerial photographs have been very well received. I recently finished a second edit of my effort and am sharing some of those photographs here.
It seems a lot of folks are enjoying them. I hope you do as well. – Ann
P.S. Several of my images from this year's flood will be featured as part of a "Discovery Dock" at the Minnesota Marine Art Museum in Winona, Minn. "The Raging Red and the Mighty Mississippi" will be on display May 19 to Sept. 4. Many thanks to Andy Maus, the museum's executive director, for the invitation to contribute to the project.