On Assignment

October 20th, 2010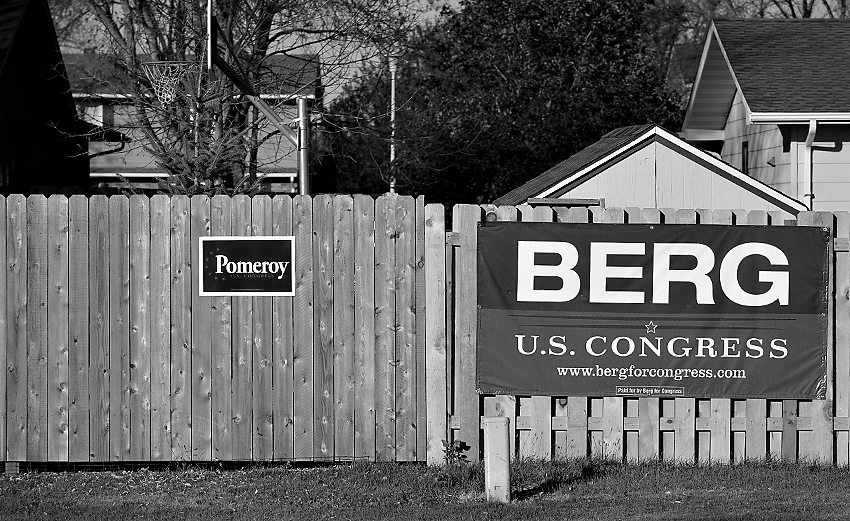 A recent editorial assignment for the Associated Press has lingered in my mind.
A little background. At the end of September AP reporter Patrick Condon and I headed to the farm of Walter and Donna Grotte. The couple lives a few miles outside of Hope, N.D, which is 70 or so miles northwest of Fargo. The purpose of our visit was two-fold: Mr. Condon intended to finish his interview with Mr. Grotte for an upcoming political story and I was to create images to accompany it.
The article's premise was to examine why North Dakota's lone congressman [Earl Pomeroy, a Democrat] and other incumbent politicians across the nation appear to be in such a tough reelection bids. The situation in North Dakota is of particular interest given the state's booming oil boom, abundance of cash in state government coffers and the economic realities that have left residents here better off than many places. Mr. Grotte voted for Mr. Pomeroy in 2008 – and multiple elections before that – but says he's angry with Mr. Pomeroy over the federal debt and will vote to support his challenger Rick Berg in November.
I photographed the Grottes at their farm. Mr. Grotte has a fabulous face for photographs and was naturally expressive. However, there was nothing visual that directly related to the political component of the story. I was secretly hoping to find an old Pomeroy sign on one of the outbuildings, but no such luck. Mr. Condon and I drove around Hope in hopes of locating political signs or other indicators that related to the story. The best I came up with there were American flags framing the town's lone water tower [photograph included below].
When I returned to Fargo that afternoon I looked for political signs in residential areas. I was hoping to find a situation where one neighbor would have a Berg sign and the next house would have a Pomeroy sign. The best I came up with after an hour of driving around was Berg/Berg/Hoeven/Pomeroy [pictured below]. So, that's the photograph I made. I sent that photograph and several others to the picture desk and called it a day.
Here's the thing. I'm still keeping an eye out for a pairing of political signs that would do a better job for this story than my original effort. I know it's too late. That's the reality of the news business. It's also the reality of being me. The best I've done – so far – is the photograph above. In all fairness to Mr. Pomeroy, it would be better if he had a bigger sign or if his supporters had posted multiples of the little sign. Ah well, maybe next time.
Best, Ann
P.S. The story was published earlier this month under headlines like "On America's Plains, times are good – but voters are still angry and incumbents are in danger" and "Despite prosperous times, a discontented mood in the Dakotas". It's an interesting read. All of the photographs below are Copyright 2010 by The Associated Press.