Musings

May 5th, 2010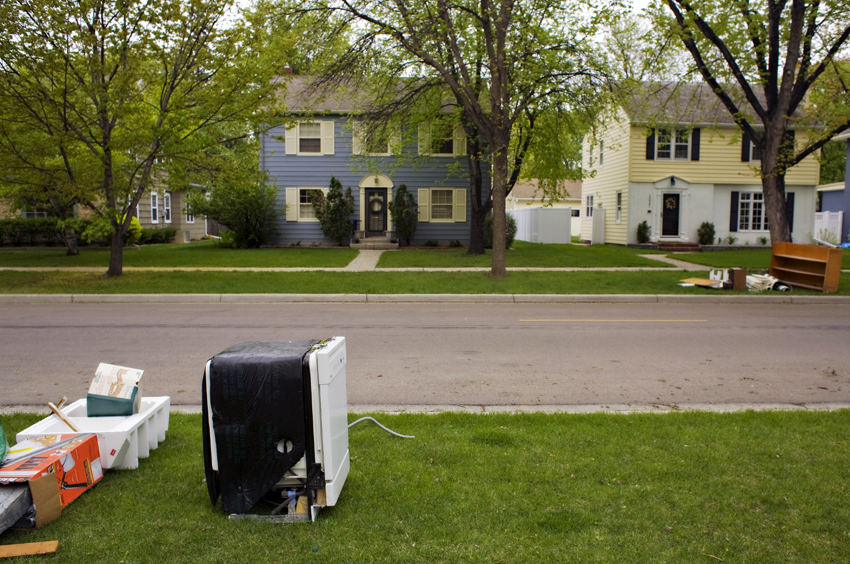 The New York Times photography blog Lens offered up an awesome concept via its "A Moment in Time" project on Sunday, May 2. Photographers of all levels and skills were invited to capture an image at 15:00 U.T.C., which was 10 a.m. in Fargo, N.D. Photographers were then asked to submit their selected image as soon as possible [but no later than Friday, May 7].
"We are asking participants to think about where they want to be and what they will focus on. Consider how to represent yourself and your community, with one image."
My original plan was to photograph little M., my 4-year-old son, at our home. However, an overnight stay at his grandparents house in nearby Moorhead, Minn., meant my intended subject would be absent at the appointed time
Enter the backup plan. I decided to walk around our block to see what I could find. The above image — shot a few seconds past 15:00 U.T.C. and submitted to the project on Sunday — wasn't my favorite from the outing. However, it best fit the assignment's time criteria. I also found the contrast between the curb-side garbage and well-kept homes interesting. The refuse on the boulevard is thanks to Fargo's annual Cleanup Week endeavor, which allows residents to deposit most anything on the boulevard and it will be picked up for free disposal.
The two images below were shot a few minutes past the assigned time. While I like both of them as photographs, I wanted to submit something that was identifiable to an actual place and not something that could have been shot anywhere in the world. Plus, I figured the editors would get an abundance of feet photos.