Musings

August 3rd, 2010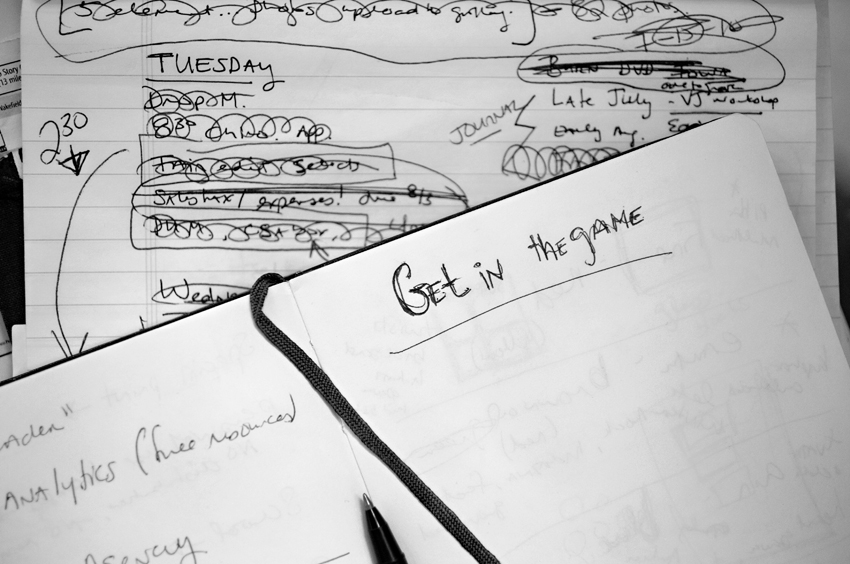 Milestones are opportunities for reflection. One year ago today I returned home from the VJ Multimedia Workshop in Ventura, Calif. [VJ stands for visual journalism.] The three-day workshop, which included a 24-hour shoot, was tuition free and open to 25 photojournalists who were laid off in recent years. Another 25 spots were reserved for students.
My interest in the workshop was multifaceted. First, I wanted to know how my photography and storytelling skills compared to other photojournalists. I wanted to know if I could show up somewhere I'd never been and produce a visual story just for the sake of doing it [not because an editor had assigned it]. I've spent much of my career isolated in smaller markets and insulated by the local newspaper. Second, I wanted to build my audio and multimedia skills. The variety of speakers and affordability of the workshop also appealed to me. Plus, what's not to love about southern California.
With the best of intentions, I planned to pause, reflect and write about my experience before today. It's even been on my official "to do" list for the past week. Deadlines, dear friends, are so important in my ability to accomplish any and every task.
There were many, many wonderful things about the workshop, which I hope will be offered again in 2011.
I could write about Dave LaBelle's passionate plea for compassion and empathy. [I treasure Mr. LaBelle's books and continue to go back to them again and again.]
I could write about getting over my fear of Tom Kennedy whose critique of my portfolio a decade ago at The Eddie Adams Workshop left me in tears. [He was right. I just wasn't in the right place to understand what he was saying].
I could write about photo editor Jim Merithew, who led our team [Group No. 2] in our quest to photograph H2O and "what it feels like, not what it looks like". [Mr. Merithew made time to look through more than 1,200 images I shot during the workshop and offered several valuable shooting suggestions – tuck the subject in the pocket, watch your horizons, don't force images, wait and watch, for example.]
For me, the most important nugget of the workshop came as the result of a presentation by Grover Sanschagrin, who helped create PhotoShelter and SportsShooter.com. He basically gave an overview of PhotoShelter – which I have an account with and so should pretty much everyone who works with digital images – and talked about SEO, image size, load times, social media, e-commerce, distribution, re-sale, personal vs. commercial uses, all things analyzable and online. He talked about the need for photographers to use more text on blogs to "get found" and advocated for virtual agencies.
I remember sitting in a massive black room at the Brooks Institute campus listening to Mr. Sanschagrin and writing the phrase "Get in the Game" in my MoleSkine. I traced the words over and over [see photo above]. The funny thing is I don't think he said those exact words. If he did, then thanks are doubly due.
'Get in the Game' means that it doesn't matter the caliber of my skills – which are expanding – or my ideas – which are too numerous to deal with most of the time. If no one but me knows about my passion, interest, skills, availability or how to find me than what's the point.
I still have a long way to go, but looking back over the past 12 months I've made progress. This morning I made a list of things I've accomplished – like this website and online journal – for my own purposes and a list of goals for the coming year. Maybe I'll write about my goals another time.
In the days after the workshop, Mr. Merithew wrote an article for SportsShooter.com detailing his workshop experience and that of others. [You can read it on SportsShooter.com.] My voice was among those included in the article.
"The VJ Multimedia Workshop was about so much more than multimedia and visual storytelling," said Ann Arbor Miller. "It gave me a chance to embrace the power that is photojournalism and restored my faith in myself as a photographer."
I continue to believe what I said a year ago, and have faith that in the months ahead I will continue this journey – one assignment, one image and one story at a time.
Below are a few photographs from my time in Ventura last summer. The H2O project remains online on the VJ Multimedia Workshop website. I remain grateful to everyone at the workshop as well as Ventura resident Drake Eaton, who allowed me to photograph him at the beach, at home and everywhere in between.
Enjoy!
P.S. Anyone interested in trying out PhotoShelter should use this link to get a one-time referral discount.