Musings

December 30th, 2011
Just over a year ago I drafted a list of my 11 creative goals for 2011. I shared them online in hopes of making myself more accountable. In all honestly, I did review them a couple of times during 2011. However, reading them appears to be just about the only thing I accomplished [that's not entirely true, but still]. The previous exercise was inspired by the endeavors of two photographer friends/colleagues. Well, one of them recently decided to publish a retrospect of sorts based on her goals and related accomplishments. Now, I feel compelled to do the same. Without further ado here are the results:
ONE  Practice patience. Stop trying to force images. Accomplished, partially. I now consider this one a life-long goal for image making and human existence in general. I will share that I often [but not always] found myself pausing during assignments, pausing to look, think and consider what kind of photograph I wanted to make. The photograph below was made while on assignment in Moorhead, Minn., for Minnesota Public Radio News as part of ongoing coverage of the lockout of union workers at American Crystal Sugar Co. facilities in Minnesota, North Dakota and Iowa.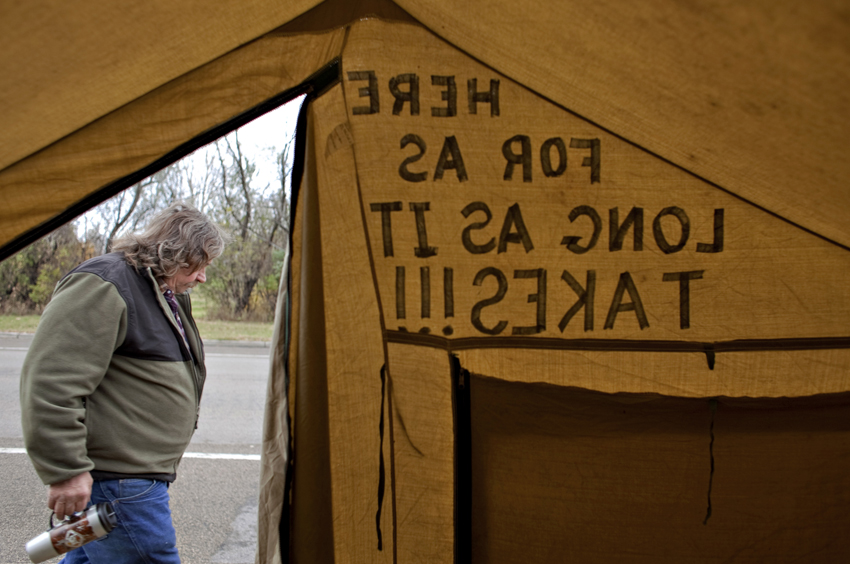 TWO  Exhibit my work. Accomplished! This goal was by far my most successful of the year. I had photographs exhibited in both "Woman As Photographer" and "Where In The World" at the Mpls Photo Center. A small selection of aerials of 2011 flooding were included in an interactive display as part of the Minnesota Marine Art Museum's "The Raging Red and Mighty Mississippi" exhibit. And most importantly, I collaborated with the lovely and talented Britta Trystad [pictured on the left below] to create "Parallels: A Curious Pairing of Photographs". Parallels was on display for the month of August at DK Custom Framing @ Gallery 14 in downtown Fargo. Thanks to Mr. Dave Arntson for the photograph below.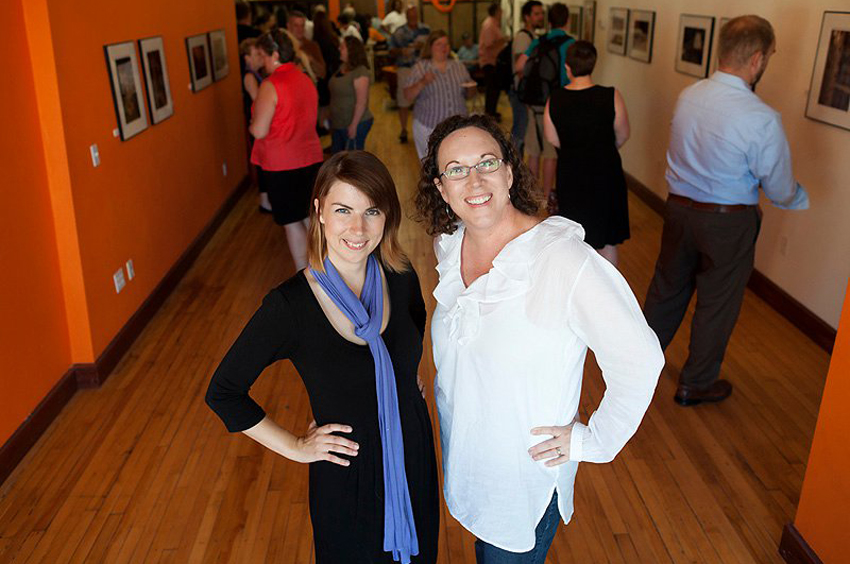 THREE  Attend a documentary-based workshop. Fail. My intention was to attend the Mountain Workshops in Kentucky. However, cost, distance and time away from home just started to feel like too much. Excuses. Excuses. Excuses. I haven't given up on attending this – or another similar workshop – in 2012, but I need to do a better job of planning to make it happen. I did attend a one-day workshop for creative entrepreneurs in Minneapolis in early October. My attendance at Giant Steps was made possibly by a scholarship sponsored by Springboard for the Arts. The photograph below was created through a window at the Guthrie Theater, which hosted the workshop.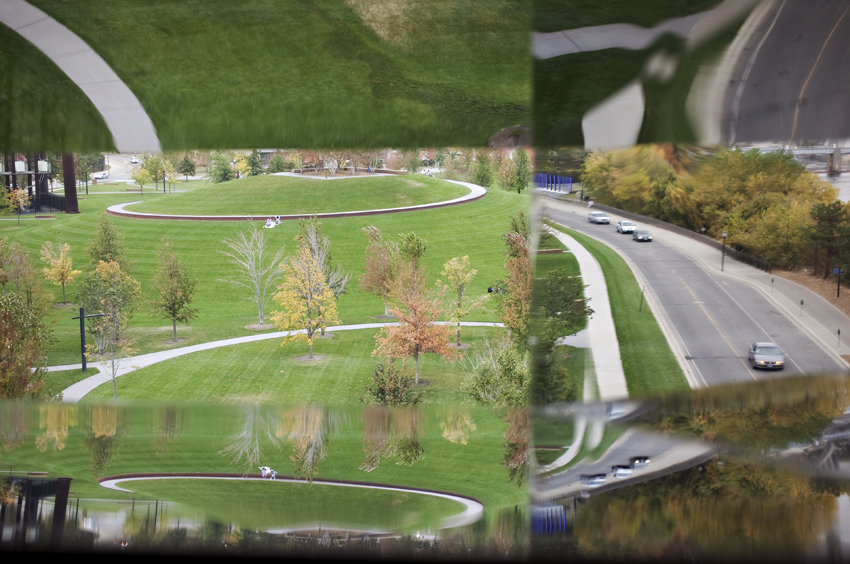 FOUR  Knit a scarf and a pair of socks. Fail. I got as far as partially knitting a scarf with the most beautiful purple yarn, but those efforts were short lived. While the scarf remains unfinished, the socks are a mere dream.
FIVE  Build a searchable image archive online. Fail. The only thing that needs to happen is for me to make the time to sort, caption and upload files to my PhotoShelter account. Every year I tell myself I need to do this, usually a few months before spring flooding arrives in the Red River Valley. Watch for this goal to return on my 2012 list.
SIX  Experiment with video and share the results. Fail. My poor 5D Mark II has never even had its video capabilities turned on. How sad is that!?
SEVEN  Pursue and publish a personal project. Fail. Of all my failed goals this one is the most troubling to me. I had a solid concept in The Bottom Line and did pursue it to a point, but then spring flooding [and an abundance of assignment work] hit. Shortly thereafter, I struggled to get caught up on work tasks that were ignored during the flood. Then, my family purchased a new house and moved across town. After that, I'm sure there was something else that came up and kept coming up. Clearly, I did not make this goal or project – which remains a concept only at this point – a priority.
EIGHT  Volunteer to photograph for NILMDTS. Fail. I did attend a training workshop and activate my status as a volunteer. However, I have not been able to take on any actual sessions for the organizations [primarily due to scheduling conflicts].
NINE  Contact photo editors at 11 national publications. Fail. I sent a couple of emails, but that's about it. On the plus side, I did work with several new publications in 2011 [Midwest Living, High Country News and Indian Country Today Media Network] and organizations [The Humane Society of the United States, West Central Initiative and Leadership Education at Duke Divinity]. Another goal to repeat in 2012.
TEN  Design a set of postcards and thank you cards. Fail. I did create a postcard to serve as our family's seasonal greeting card [see below]. We mailed it in an envelope because I wanted to use two photographs and not give up space to mailing information and a stamp. The printing and paper quality were excellent so this is another goal that might come back around. Thanks to Britta Trystad for photographing our little family.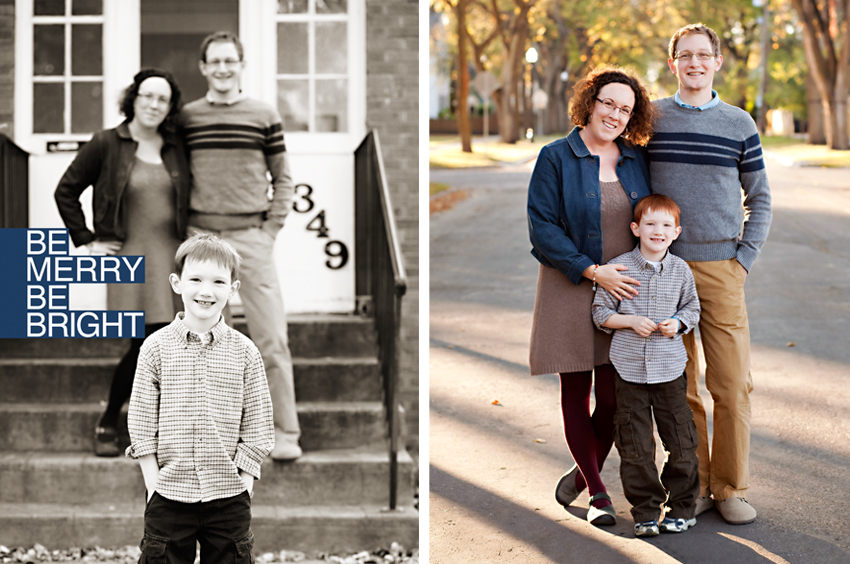 ELEVEN  Create images that rely on emotion. Accomplished, sort of. I thought it was emotion I wanted to capture, but after looking at images from 2011 I realized it's really more about reaction and interaction. This could be one person interacting to another or it could be how a person or object relates to a particular place or scene. Like goal No. 1, I think this endeavor is more of an ongoing effort. The photograph below was created in recent weeks for Minnesota Public Radio News during a Kurdish language class in Moorhead.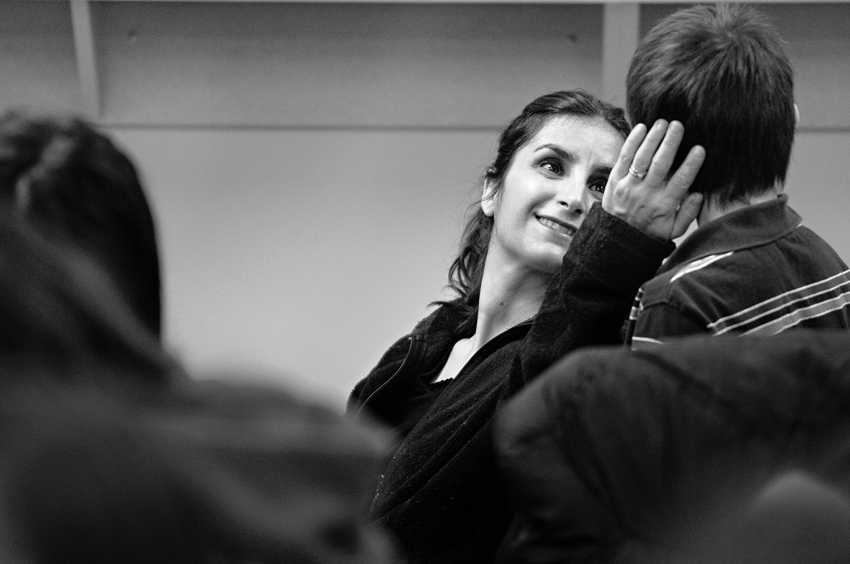 That's the official [and rather lengthy] year-end report on my 11 creative goals for 2011. I'll be back with a list of a dozen goals for 2012 next week.
Happy New Year. – Ann